Shivalik Dam in Udaipur is a new picnic spot located on National Highway 27 near Iswal, before Gogunda.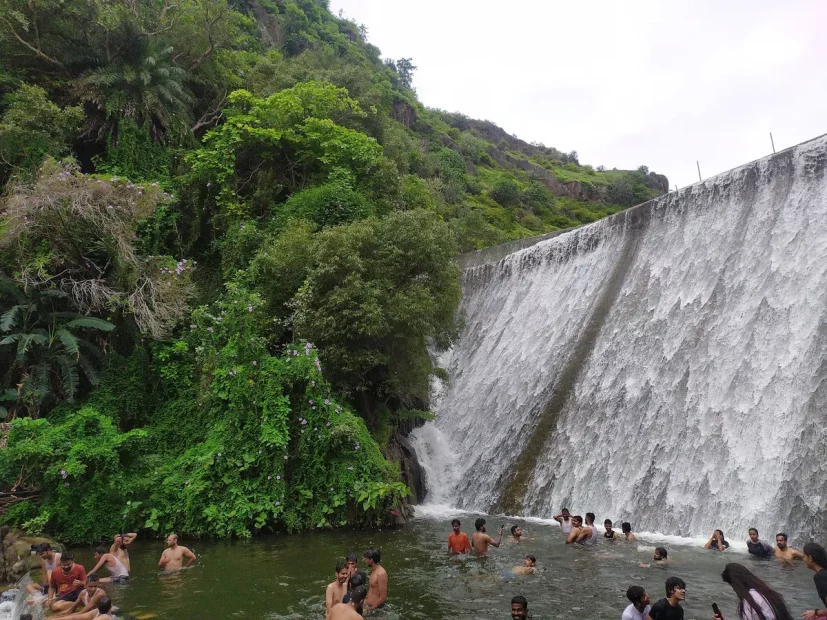 The Shivalik Dam in Udaipur offers everything an adventure traveler could crave, such as a beautiful waterfall, hiking through river streams, swimming for both swimmers and non-swimmers, and cliff jumping options.
The dam is located on the Udaipur to Mount Abu Highway, which passes through Iswal, Gogunda, and Pindwara.
The distance from Udaipur to Shivalik Dam is around 25 kilometers, and it takes about 45 minutes to reach.
From the main highway, you must take a left turn onto a narrow road and drive for about 1.5 kilometers before parking your vehicle.
If you are planning to go there on a Sunday in a car, you will have to park your car on the highway because the road is narrow and you may end up getting stuck.
There is no concrete or asphalt road to the dam, so be prepared for a short hike of about 1 kilometer, during which you will have to cross muddy roads and several river streams.
The entire valley is very narrow, so there is little space to sit with your family. You will have to find a spot slightly away from the main waterfall. However, you will find plenty of space along the river.
Swimming options:
For those who do not know how to swim: You can enjoy the water at the bottom of the waterfall, where there is a cemented area just below the waterfall.
For children: Anywhere along the river route, but avoid taking them too close to the waterfall.
For those who know how to swim: You can go to the top of the dam, where there are stairs near the dam and you can swim there. There is also a cliff-jumping spot around the dam. You can ask the locals where to jump.