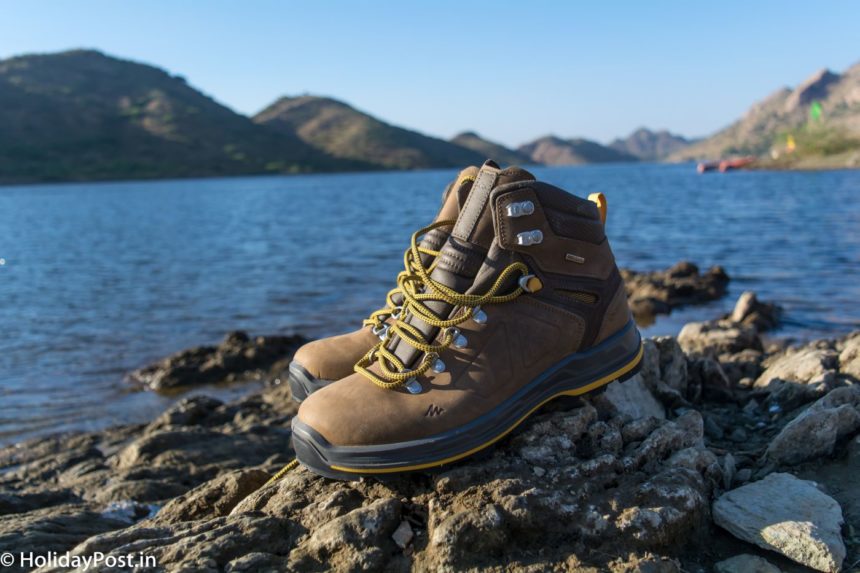 When it comes to Trekking gear in India, the options are very limited. Very few brands sell their products in India and the Quechua is the only brand that you'll find everywhere in India, thanks to those awesome Decathlon stores.
Most of the first-timer trekkers or Amateur trekkers come for the Himalayan Trek in sports shoes which is a dangerous game. Nobody should take the Himalayan trek lightly. Here is my Quechua Forclaz 600 Review after I tested it on Kedarkantha Trek.
Quechua Forclaz 600 Pros:
Good traction even in slippery snow conditions
Waterproof
Comfortable for legs even after 5-6 hours of trek
Available all over India, even you can order online
Good Ankle support
Quechua Forclaz 600 Cons:
Slightly heavy but for me, I feel okay with it.
Design & Build Quality
By look wise, the Forclaz 600 is not a good-looking shoe in the Decathlon lineup but it has the best build quality among all. It comes with a full-grain leather upper which gives a longer lifespan. At the bottom, it has a CROSSCONTACT sole supporting grip with 5mm cleats. After the trek, you just have to take care of the leather by applying some nourishing cream on top of it. And your shoes will last longer than expected.
At Decathlon, you may fall for the Forclaz 500 because it looks better, however, the Forclaz 600 is Plus One in almost all the aspects.
Performance
Quality & Durability can be only known when you test the shoes in a real Environment. I used this Shoe at my Kedarkantha Winter Trek and also a few short Hikes in Rajasthan.
At Kedarkantha Trek, I wear this shoe for almost 7-8 hours a day despite wearing it in tough conditions, I never feel uncomfortable. The shoe comes with PU cushioning which ensures the comfort of your feet.
Always go with 1 number bigger than your original size, so that you won't feel uncomfortable when descending.
With the shoes ON, I crossed many streams and also hiked in 7-inch snow and the shoes handle it pretty well. The Quechua claimed that the shoe waterproof membrane tested on a 16 km walk in the water until mid-upper.
The shoe is also very breathable, I never faced moisture in my feet. While descending from Kedarkantha Peak, I was not wearing the gaiters and the snow was more than 1 foot deep so snow entered into my shoes from the top. After reaching the base camp, I just left my shoe for 2-3 hours in direct sunlight and it quickly dries off.
Through my shoes never get wet in a direct river stream, so I can't comment right now. I'll probably test it again on my next trek and will update here about the dry time.
The Quechua Forclaz 600 has a superb grip on most of the surfaces thanks to 5mm cleats. During our climb towards Kedarkantha Summit, everyone was slippering there but this shoe made my train smooth. I never feel that I need crampons to improve my grips.
Conclusion
I recommend this shoe to everyone who is going to Himalayan Treks. Quechua Forclaz 600 is the Best Low as well as High Altitude Trekking shoe you can buy in India at a very affordable price.
Quechua Forclaz 600 is available at Decathlon Shops at Rs. 6,999. The price may sound more for most of the Indian buyers as we've to convince our parents/wife/husband to get the shoes. But believe me, this is a one-time investment and you shouldn't risk it when it comes to shoes.